Following on from the Football as Magazine Covers blog entry, Milan striker Mario Balotelli made the cover of Sports Illustrated magazine recently. In doing so, he became the first non-US or US-based footballer (Beckham was on it last year, while playing the LA Galaxy) to feature on the world renowned sports magazine, which labelled him as "The Most Interesting Man in the World."
Picture above is high-resolution – click to see larger and save.
Photographed by Sports Illustrated photographer Jeffery Salter, the picture shows SuperMario walking on water. Quite the nice Photoshop job, right? Nope. It was real. Not SuperMario walking on water, that is, which you wouldn't put it past him in claiming, but the photo, which was done using plexiglass.
It was a hot day in Miami. We set up at 7 am. in a pool at the St. Regis. My four photo assistants donned swimming shorts. You won't believe how hard it is to keep a 3/4 inch Plexiglass table from floating away with one of the world's top soccer players on it. Light was harsh, harsh and harsher. The pressure was on. Sports Illustrated's Director of Photography, Brad Smith wanted an Iconic photograph. Here's my try.
Mario was cool. A bit jetlagged from just arriving in Miami from Milan the day before. He wanted to do the photo shoot and go to the Mall. He's a great athlete, who plays classical piano and met with the Pope, but still only 23.
Here are a few shoot details, a plexiglass table needs plenty of sandbags on the legs otherwise it will definitely try to float away….. This photo was taken with a Phase One IQ260 digital back (which is wi-fi enabled on a Phase One DF+ camera body) and Profoto lighting – all available from Capture Integration. The wifi enabled Brad to review images on an iPad as I shot. As I mentioned earlier we started setting up at 7 a.m. when the light was just amazingly beautiful…however as these things go…we didn't start shooting until close to noon. The light was extremely contrasty. However, I was able to capture detail by having a digital camera back which has a dynamic range of 13 stops and flash syncs at an incredible 1/1600 sec. The Phase One camera fitted with a 80 mm Schneider-Kreuznach Leaf shutter Lens that allows you to sync your strobes up to 1/1600, with that I toned down the back ground a bit and lit Mario with a Profoto 5ft giant silver umbrella fitted with a Profoto flash head powered by a 7B battery. Not rocket science, but their was no way in heck that I was going to put anything that needed to be plugged near the pool. Just saying…..
Also worth noting that all the cover plugs on the issue are dedicated to SuperMario (except the two above the masthead), which seems a little excessive. Particularly the one saying "He is African" – even though he was born in Palermo. Plus, the use of the word "futbol" ("The best young striker in futbol) is rather weird. Why "futbol" and not football, calcio or even, bleh… saccer?
Inside DPS feature: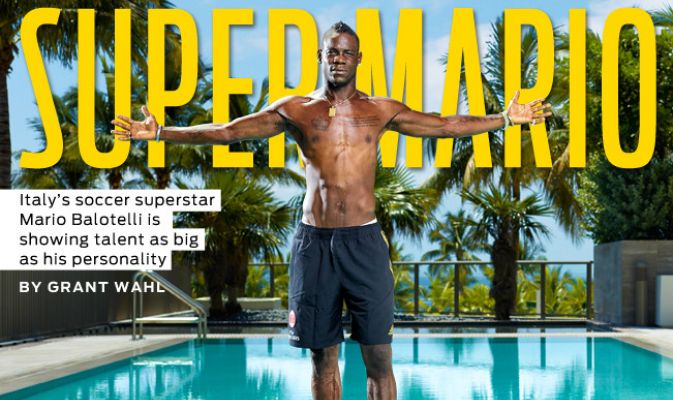 The full Mario Balotelli interview from the issue can be read on their website here.