We recently had to pleasure to collaborate with our friends over at MuseumofJerseys.com on their excellent #FantasyKitFriday kit concepts (view it in full here), which sees weekly mashups of teams in a classic kit style different to that which they actually wore. This time it was the turn of AS Roma, and we imagined an alternate timeline where Roma continued with Kappa in the early 1990's, with these designs based on the famous Barcelona Kappa kits of 1992-95 (see Barcelona: the Kappa years).
Kappa were always my favourite Roma kits. From the iconic 2000-01 home shirt to the Barilla-inspired kits of the mid-80's, Roma's association with Kappa is instantly recognisable, something which is lost in todays kit world of lazy global templates. Roma's Kappa never veered too far off track in design elements, however, always keeping that classic style, and I always wondered what they would look like with more variation. Enter Kappa's Barca efforts, with the noticeable white Kappa logo stripes all around the edges and coloured shoulder marks. While brand logos should never really stand out too much, there is something about the classic Kappa icon with lends itself toward being a design element rather than just a logo, and here it works to perfection.
The home kit, below, is two-tone dark red, while the away is a simple transposition of Barca's aqua away. The 3rd, orange and grey, borrows from the home style but also mixed with Roma's much-loved (yet oddly never repeated) half-and-half 2001-02 European kit. Be sure to let us know which is your favourite!
MuseumofJerseys.com are sports kit experts and concept specialists, attempting to educate and enlighten. See more on the their website or follow on twitter @museumofjerseys.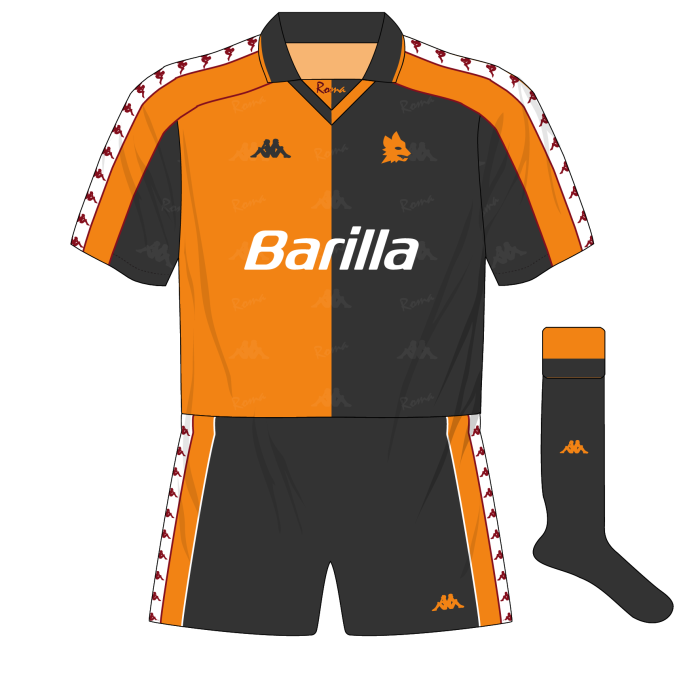 The Barcelona Kappa kits of 1992-95
Totti in the Roma 2001-2002 3rd European kit, inspiration for the above 3rd