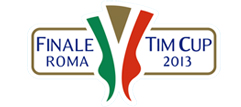 Here are some graphics/wallpapers I've created for the Coppa Italia Final 2013 between Roma and Lazio which takes place in the Stadio Olimpico in Rome on May 26, 2013.
The eyes of the footballing world will be on Rome for this final as fireworks will be expected, both on and off the pitch. Leading up to the game there was much confusion and furor about the exact kick-off day and time due to the trouble witnessed outside the stadio between fans and police in the last encounter of the Derby della Capitale (and indeed during practically all of them).
The final itself will be a special event, with tickets like gold dust, and with more than just local pride and honour at stake (as well as Coppa Italia honours, it could also be a passage into European football in the shape of the Europa League). It looks set to be a truly momentous occasion, with Franceso Totti even saying the game will be like a "Champions League final".
Sizes are, as always, 2560 x 1440. Click on the images below to get a bigger preview, or click download for full size.