FIRST there were the Nations, the powerhouses of the world game, from Italy to Argentina and Germany to Brazil. Then the 'Battle of the 10s', looking at past heroes, and then came the glory of the games favourite competitions: the World Cup and the European Cup (see them here). Now, for the wonderful These Football Times magazine, it's the turn of the clubs, iconic teams from the games greatest leagues, and for the latest issue, one to stand above them all: Roma. To dedicate an entire magazine to a single club is a great feat. With top-quality journalism, memorable stories, photography and design, These Football Times have published club-specific issues for Boca, Ajax, Dortmund, and now Roma. They tell the stories of the legendary players, the rich histories, the fans and the cities, the rivalries and the legacies, and they do it in style with a top-quality printed magazine which is a joy to behold.
The 4th club magazine is all red and yellow. These Football Times headed to Rome and gained exclusive access to the inner sanctum of the club, and spoke with cover star Nicolò Zaniolo, Er Bimbo de Oro himself reborn (yep, the comparisons have already been made) for what is sure to be a fascinating interview. There's also features on the inside story on Daniele De Rossi and Francesco Totti, the story of 2001, the Derby della Capitale, and past greats from Conti to Montella, Cafu and Candela. There's also an interesting feature on Roma on Twitter, and the inside story of a social media team that changed football, and much more.
Forza27 recently caught up with These Football Times managing editor Omar Saleem for a quick chat on the focus on Roma for this issue:
What was it that attracted These Football Times to focus on Roma as the first Italian side in the 'club' series, as opposed to some of the more traditional, northern clubs?
"Roma was a natural choice for us. If you look at the previous issues, we've tried to steer clear of the biggest clubs of all, partly because their journeys are told so often and partly because we find them far less interesting than the tier of clubs just below. Scratch beneath the surface at clubs like Roma and the stories to be told are incredible", Omar said.
"We could've made a 300-page magazine if space and budget allowed", Omar continued. "Roma themselves were incredibly keen to work with us, telling their story to an English-speaking audience. Plus, it's not hard to want to write about icons like Totti, De Rossi, Conti and Montella – superb footballers but great personalities too. The wider world can keep their Juves and Inters – we'll take Roma."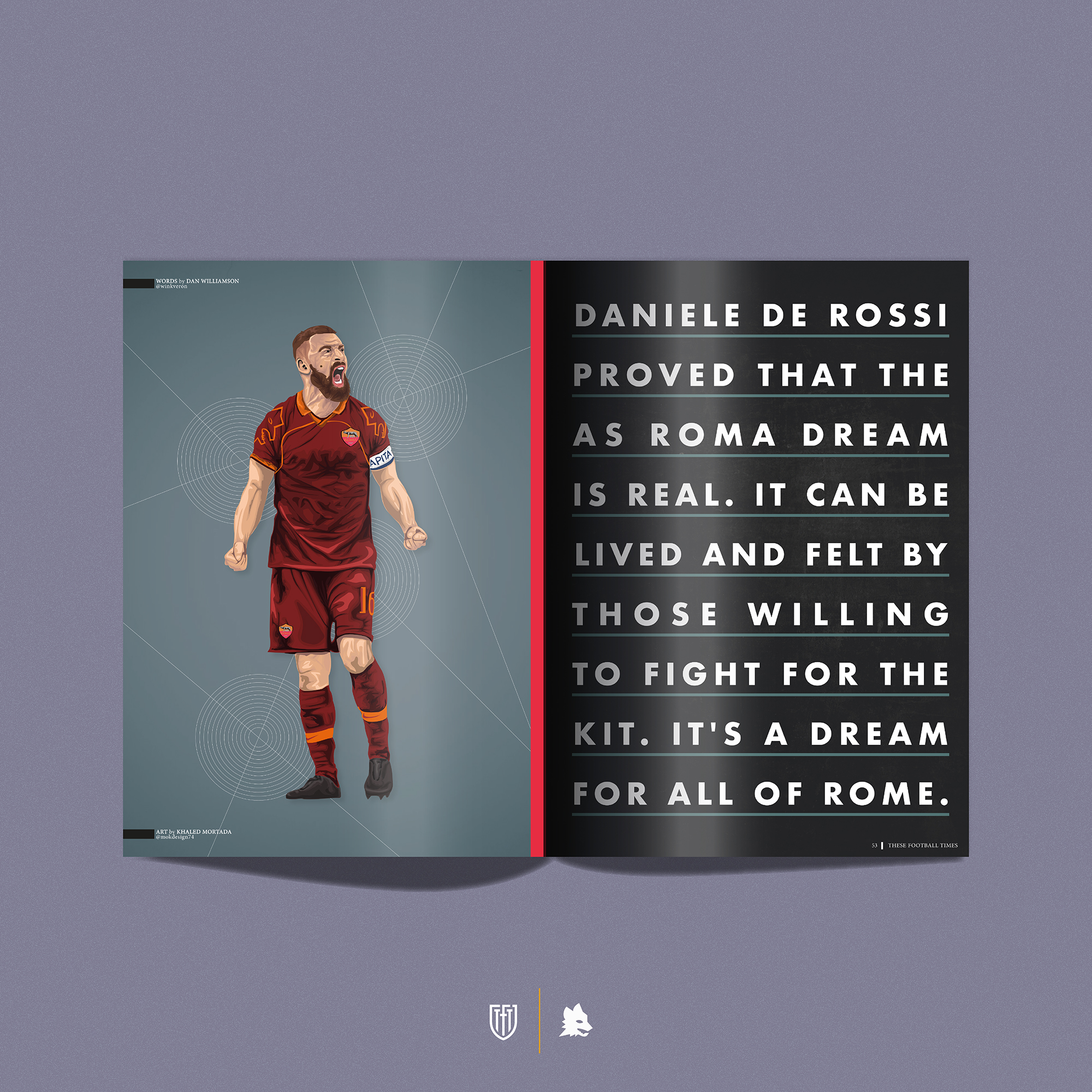 You mentioned Roma, was there any official input in the magazine from the club itself? 
"We worked with lots of clubs before but none have been as open, engaging and passionate as Roma. They gave us access to Nicolo and other aspects of the club, but most importantly, they have provided an input into the accuracy of the content, ensuring stats, dates, timelines and events are as close to perfect as possible. They also gave us a great insight into the inner working of the social media team, the training ground and the plans for the future. It may not always seem that way, but Roma have a vision and they're slowing working towards it."
With a unique insight into the inner workings of the club for all the team at TFT, the results will no doubt make for fascinating reading knowing the quality and attention to detail which has gone into previous magazines. The feature on the groundbreaking social media team at Roma – who have gained a huge following and generated lots of interested over the years – penned by Euan McTear will certainly be one to keep an eye out for.
Was there much consideration into the recent events in Rome which have dominated the headlines this summer, in particular the departures of club legends De Rossi and Totti, and did this have any input into the final editorial decisions?
"We chose to stay away from the reasons behind why certain players have left – as we did with the other issues and clubs we've worked with," said Omar. "That's for the newsdesks and speculators. For us, these magazines are about celebrating everything that's great about football clubs, in this case Roma. It's easy to get bogged down in thinking your club isn't going anywhere – we've all felt that before – which is why celebrating the distant and not-too-distant past is all-important. Let's not forget that so many people sweated blood for their club. We want to frame that, bring it to a new audience, and remember those who gave us memories that will last a lifetime."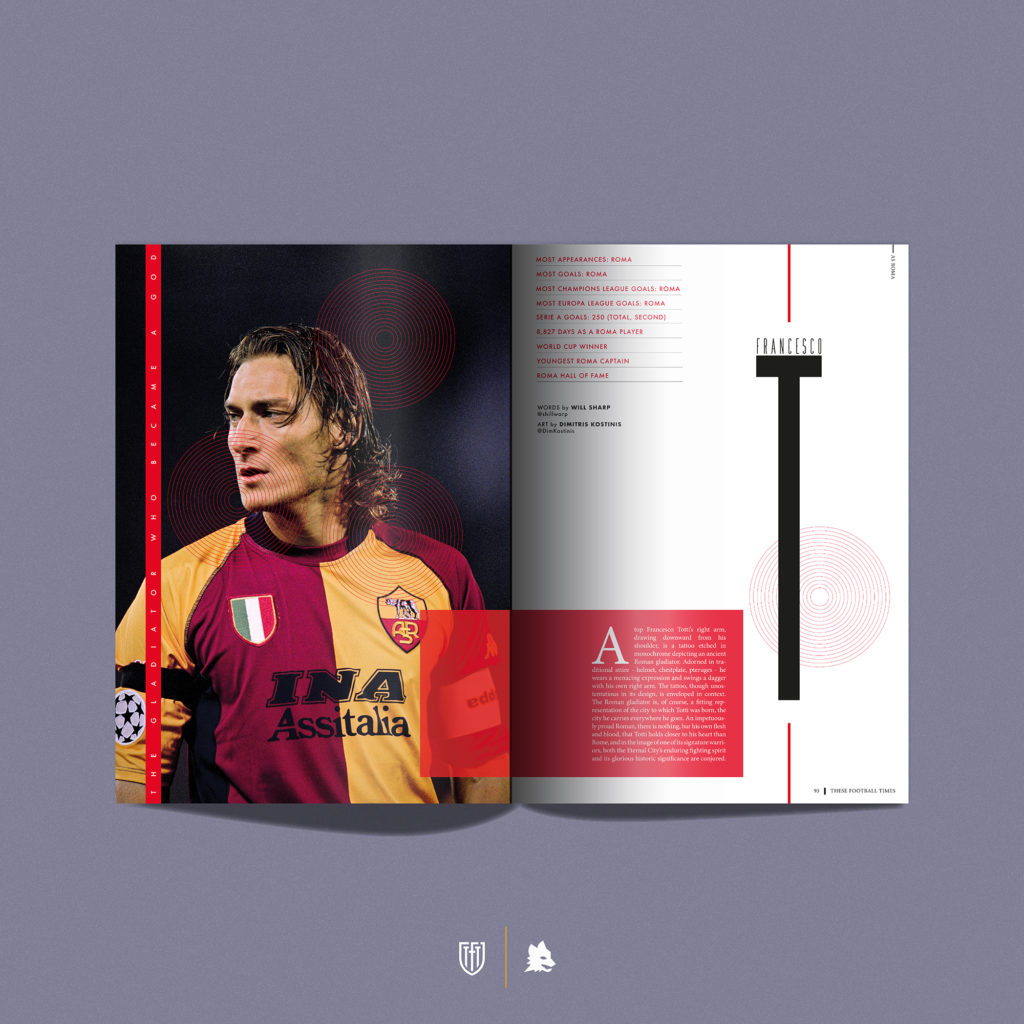 At a colossal 140 pages of high-quality print, TFT: Roma is sure to provide some great memories and be a superb collectors item for giallorossi fans the world over. With some top class photography and illustration from the likes of @umbarshakir (of Atomik Photography, cover photo and more), @DimKostinis, @feddewap, @from12yards_ and @vinnot86 to name a few, this is one not to miss. Welcome to issue four of the club series. Welcome to AS Roma.
These Football Times: Roma is released on 1 August. Printing is limited and they are sure to sell out, so to reserve your copy click here. Stay up-to-date with the latest from TFT via @thesefootytimes.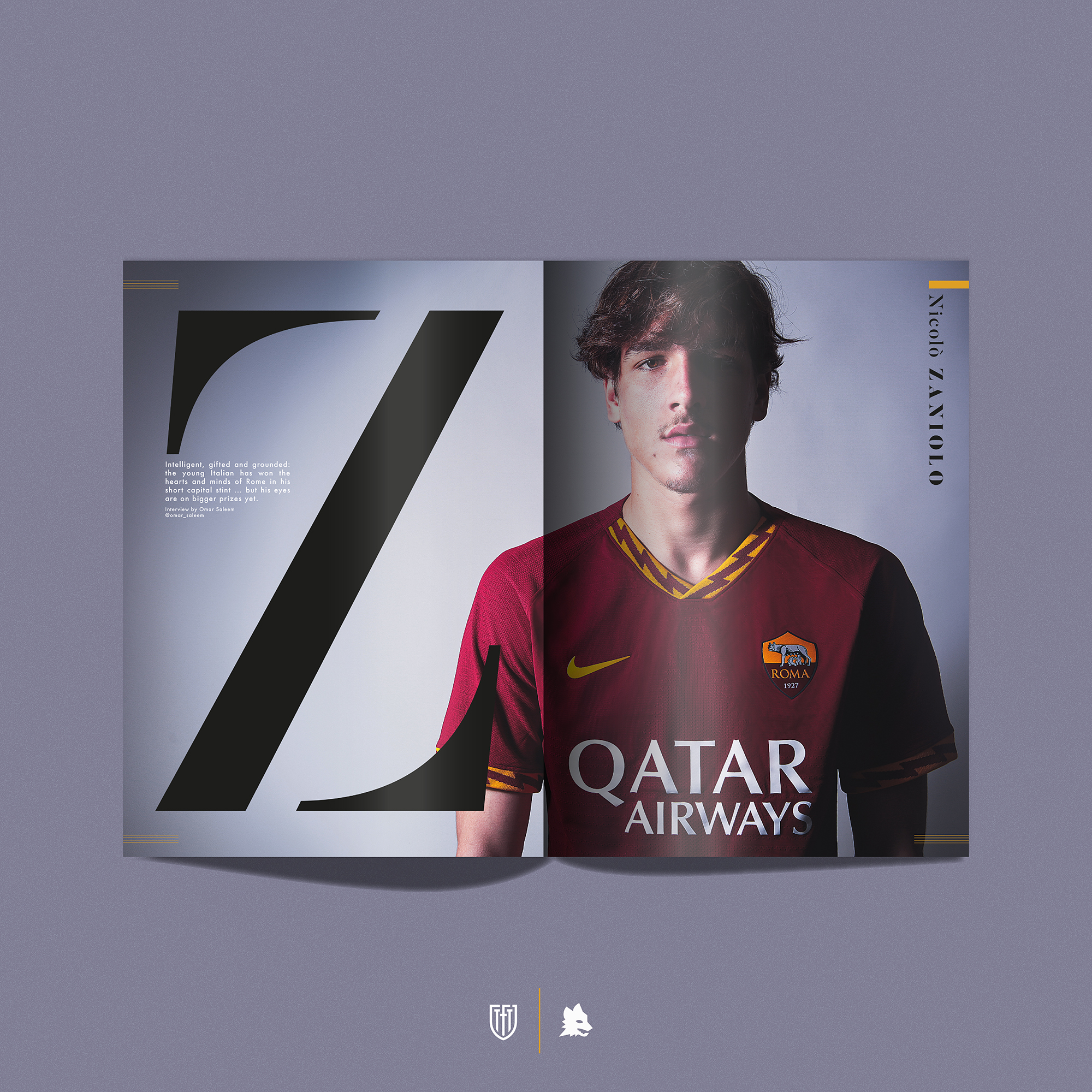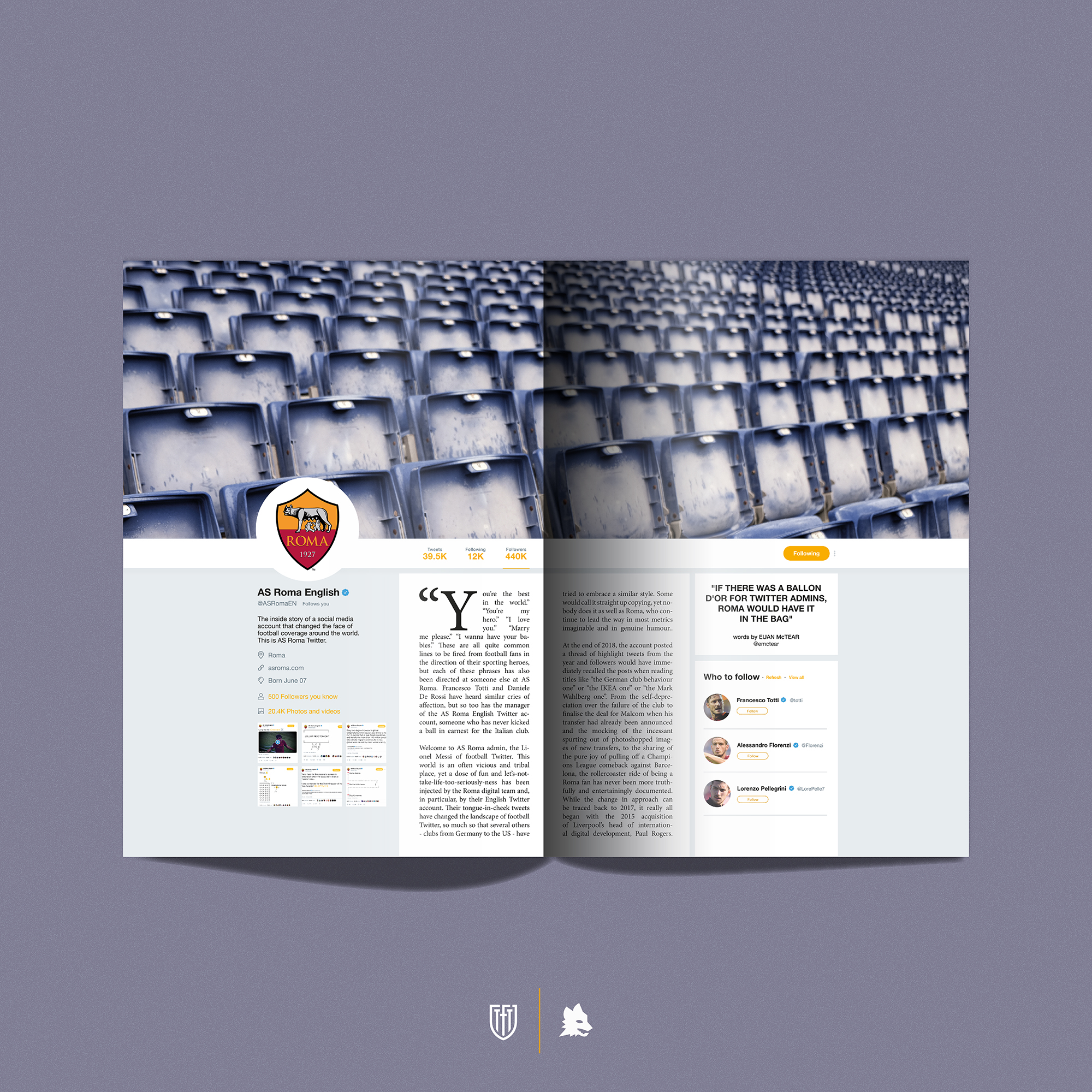 Full list of Contributors:
Omar Saleem (Zaniolo interview and managing editor)
Will Sharp (two features and sub-editor) – Totti and 2001
Simon Disney (sub-editor)
Gabriel D'Urbano (sub-editor)
Matthew Evans – Foundations
Stuart Horsfield – Stadium history
Euan McTear – Social media
Aidan Williams – Derby della Capitale
Dan Williamson – Daniele De Rossi
Gary Thacker – Vincenzo Montella
Steven Scragg – 1980s
Christopher Weir – Cafu/Candela
Ryan Plant – Bruno Conti
Billy Munday – The Roman Bloodline
A special thank you from Forza27 to Omar for providing images and words for this article. Keep up the great work!